Texas Workers Compensation Lawyers
More than 65 years of combined workers' comp experience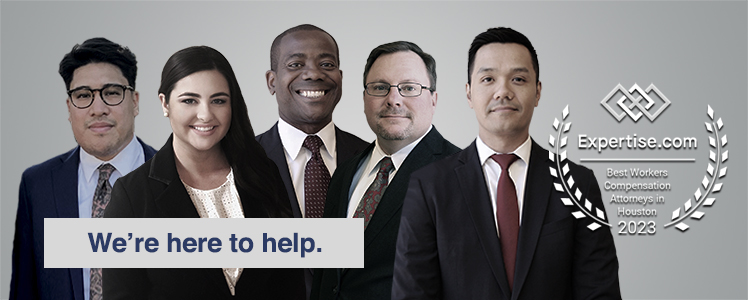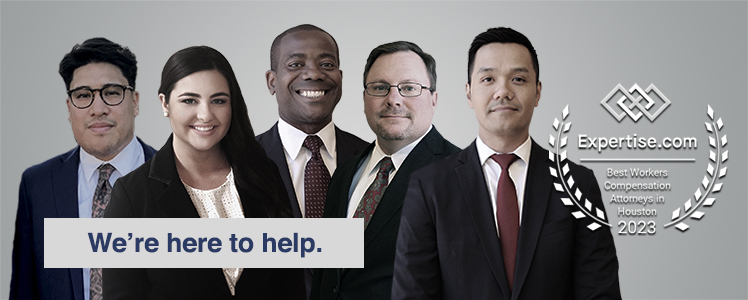 Who will help me if I'm getting the runaround or being denied benefits?
If you were injured on the job and you're not being treated fairly by your employer, the insurance company, or company doctor, our team of top-notch attorneys will be there to help.
Texas Workers' Compensation Lawyers
What brought you to our website today?
Texas worker's compensation
 entitles you to
medical care
and
income benefits
if you have been injured on your job. If you have experienced an injury while at work, lost time and lost wages from your job call us now. Job injuries require workers comp attorneys with job injury experience, who are able to quickly answer your questions concerning workers comp and to help you get the maximum amount of Texas Workers Compensation benefits. Call 888-434-COMP (888-434-2667) today to learn your options and how to best protect your family and job. The call is free. If you have a workers comp claim, we have experience in representing injured workers before the Department of Workers Compensation (previously known as the Texas Workers Compensation Commission). A few questions to ask yourself about Texas Workers Compensation:
Have you been injured on the job? If so, you have rights and options under Texas law. Call us to find out what your next move should be and how you should proceed.
Have you missed more than seven days from work? If so, you should be entitled to Temporary Income Benefits while you're treating and getting better.
How has the Texas Workers Comp system hurt you and your family? You do not have to go this alone. We can help you through this difficult time in your life. Call us at our toll-free telephone number 1-888-434-COMP or use our Live Chat feature on this website.
Are you being short-changed on your Texas Workers Compensation check? Call today and find out. The call is FREE and there is no obligation. It is not at all uncommon for us to obtain our clients very large increases in their workers comp checks, and very large deficit payments for all the weeks they've been underpaid!
Texas Workers Comp enables an injured worker to receive medical benefits as well as income benefits. You should be receiving treatment for ALL of your injuries, not just the ones the insurance company wants to accept. Do not let the carrier deny you benefits.
Already Have an Ombudsman?
Your Ombudsman is underpaid, overworked, and not equipped to adequately handle their high caseload. Every day, injured workers report that it's hard to get their ombudsman to return their calls. We've even heard credible reports of ombudsmen missing deadlines and (illegally) giving bad legal advice.
Learn More: An Ombudsman Is Not A Lawyer

Experienced Texas Workers Comp Attorneys Can Help
You need a Texas Workers Comp lawyer because the insurance company is not in the business of looking out for your best interests. The insurance company is in business to make a profit. If you don't have an aggressive attorney you are likely to not get some benefits or get less than you deserve. Don't be afraid to call us and ask questions. There are no dumb questions. If you don't really have a question call anyway and let us explain some of the issues you should be thinking about. Here are a few questions that you may want to ask:
At Abbott, Clay & Bedoy, LLC, we are dedicated to championing the rights of injured workers, ensuring they receive the compensation and care they deserve. Today, we're thrilled to share yet another success story that showcases Attorney Nikki Miller's commitment to...
read more
Austin, Texas - A recent federal workplace safety investigation uncovered more than a dozen safety violations at a Kyle, Texas vehicle parts manufacturer, Simwon NA Corp. The company was found to have ignored repeated concerns raised by workers and willingly exposed...
read more
Call Today
At Abbott, Clay & Bedoy, LLC, we believe that getting the compensation you deserve after an accident is too important to leave to someone based on location alone. We represent clients throughout Texas, and will come to you to make sure your interests are being well-served. To learn more about your rights after suffering an injury due to negligence, call us at 888-434-COMP (888-434-2667) for a free initial consultation. Our attorneys will discuss with you whether or not you have a case for your injury or injuries and what we can do to help you right away. When you decide to have our firm represent you, we will send someone out to your house that same day to meet with you so we can start representing and helping you as soon as possible.
Our Address
12600 N. Featherwood Dr, Ste 200
Houston, Texas 77034
Phone & Fax
Main Office: 713-223-1234
Fax Number: 713-910-9010
Toll Free: 888-434-2667
Toll Free 888-434-COMP
Abbott, Clay & Bedoy attorneys are licensed only in the state of Texas unless otherwise indicated in the biographical section. Past performance is no guarantee of future results. We consider employment in another State only in association with co-counsel licensed in that State. References to laws are limited to federal and State of Texas law.