Read What Our Clients Are Saying!


Great work from this law firm! Izzak took my case and what can I say? Helpfully and timely done, great job!

I was injured on the job and denied worker's compensation. I went on the hunt looking for a lawyer to help me. Out of all the lawyers I talked to Izzak was the most knowledgeable and eager to seek remedy immediately! Izzak has been nothing but helpful and goes above and beyond to make sure you understand what's going on. I was never left in the dark assuming anything. Communication was clear and I'm extremely satisfied with how I've been treated.

Incredibly impressed with this firm's work. My attorney, Nikki, and her assistant, Leslie, were amazing to work with. They're both very friendly, efficient and were helpful through the whole process.They are very professional, and pleasant to speak with. They keep you updated on the whole process, respond promptly, got everything taken care of for me, and I might add, in a timely manner. They took all the stress off of me having to deal with insurance company, my adjuster and other things.Would definitely request their services again, if need be.Would absolutely recommend their services for assistance when dealing with difficulties with workers comp. Don't waste your energy with OIEC.

Robert Anderson
1687120226
Absolutely wonderful peopleWe need more Layers like this firm

I was at my last straw until I contacted Abbott & Associates. Mr. Joshpe Bedoe was assigned to my case. He worked tirelessly to get my the best results. I wouldn't hesitate to call on them again.Robert Eaves

Abbot and Associates has been the best choice I could've made. They've been nothing but helpful, honest, and up front with me. Izaak has been fantastic, helping me understand what they are doing and why, and really just making me feel like their law firm really cares about their clients and getting them what they need.

Honestly do not know how I would have made it out of my situation without Bill Abbott. Completely understanding and willing to elaborate on things I did not understand regarding my case and legal terms. Hoping I never have to be put on workers comp again lol but if I do, I will be more than honored to have Abbott & Associates represent me again!


Very informative and professional. Really explains the details of how the case is progressing and seems to have great understanding of the rules and law.

Izaak Banda offers the best representation! He became a voice for me to be heard and to receive the treatment I needed. He's professional, timely, and detail-oriented! 10/10 would recommend

Bill Abbott took the time to walk through the process when i was injured. His attorney Izaak Banda took over and did a great job. He always answered my calls, texts, and email. Very professional law firm. Helped me get the right doctors through my process. Thanks for all the hard work and helping me out when i needed it the most. Amazing Team Thanks from the bottom of my heart Izaak Banda

ESTOY EN WORKER COM Y ASTA EL MOMENTO ME AN AYUDADO BASTANTE NADA COMPARADO CON LOS ABOGADOS ANTERIORES, BUENO EL ATERIOR PARECIA QUE YO ASIA TODAS LAS INVESTIGACIONES SOLO LE DABA LOS INFORMES A ELLOS Y NO SABIAN ATUDAR CUANDO TE ENCUENTRES EN ESTA SITUACIOIN MEJOR CONTACTA ESTAS PERSONAS SE RESUELVE MEJOR Y MAS ATENCION ALO QUE VERDAD IMPORTA

I'm so glad I chose this company for my workers comp claim. Mr Izzak was soo helpful throughout the whole process. He was always just a phone call or email away and he responded very quickly. During my hearing, he went to bat for me after they claimed I wasn't hit, he stated the minutes on the video that showed where I was hit. He was on it. I'm forever grateful. Thanks Abbott and Associates! U guys Rock!



I was injured back in 2020, Joseph Bedoy and Bill Abbott have been a true blessing. They have been fighting hard for me and my case. They have been polite, professional, and they truly care about you. I couldn't be happier with all they have done. If you need a lawyer and you're on the fence about hiring them, do it. They will get you everything you deserve plus more

Customer service starts out great but after they get your Workers Comp checks coming in my attorney doesn't answer the phone nor answer emails in a timely manner. Bill Abbott himself is great on the other hand. He addressed my concerns immediately and called me back the next morning with answers even though it was a federal holiday. Owner / operator firms seem to care more in my opinion.

Steven S. (Justice)
1673560953
Absolutely phenomenal Experience and outcome. Fyodor Clay and his staff handled my claim; starting day one with world-class customer service and attention to detail and my personal needs. Throughout the process Fyodor kept me informed of the process and helped me sure up a great medical team. Fyodor and his staff would help me take care of any problems I had with doctors, procedures, and the insurance company. Fyodor Clay and his staff is amazing and patient, they kept calm during my moments of frustration with my injury, pain, suffering and issues arising from the whole situation. I never had to wait long for them to contact me back or answer the phone, Fyodor would literally answer my phone calls and had no problem talking to me until I was satisfied. Fyodor Clay, Courtney Teague and Abbott & Associate's will have your back during what could possibly be the worst time of your life. I know because I needed them and they were there. Thank you all so much and my family thanks you as well for taking excellent care of their father and husband.

Sergio Martinez
1671131907
Amazing Team. Joseph and Nikki were able to get the most out of my benefits of workers compensation. Got all my medical needs and procedures and were able to get the most on my weekly pay. If you ever need a workers compensation attorney, Abbott & Associates are the ones you need to hire. Don't settle for less.

I was represented with excellence by Joseph. If anything I was nervous, but everything new is a learning experience. The truth will always set us free. Joseph is excellent for my case thank you very much for the hard work you do.

Albert L Gonzales
1667653114
Bill Abbott has the most approachable legal advice in the business. I have never met a lawyer as honest, respectful, and has your best interest to do the fairest job for you. Very knowledgeable.

Thank you so very much you have been the most amazing! And i couldn't have done it without you.. Thank you so much for believing in me and pulling so hard to get me what i deserved. If i ever come across someone that is in a situation like i was. I will definitely pass yall's name along. Thank you for always keeping informed on everything. And being so kind all the time.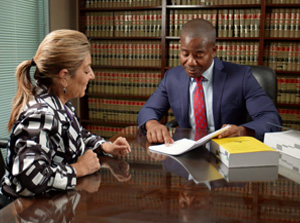 Whether working in the office or on the road attending hearings and trials for their clients, the attorneys at Abbott, Clay & Bedoy are committed to providing the best legal service possible.
The statements below were written by injured Texas workers who have received our help. These testimonials are gathered from web review sites like Google, Yelp, Avvo, Yahoo, and others.
The recommendations were written voluntarily by our satisfied clients to let other injured workers know that when it comes to giving experienced legal help, answers, and representation, the workers' comp lawyers at Abbott, Clay & Bedoy, LLC have what it takes. CALL 888-434-COMP.
Very good experience from start to finish. My attorney handled my case and he was very professional thru and thru. Its been over six months since my case ended and although late I wanted to mention the great experience I had with this firm. They kept in touch with me the entire time I never had to wonder why was going on with my case, I wish there were more attorneys like him. Thanks a Million.
Joseph Bedoy of Abbott Law Firm has been a tremendous help in a time of need from start to finish. He is very attentive an goes beyond for his clients.I would highly recommend Mr.Bedoy and Mr. Abbott to any one struggling for help with workercomp issues.They will fight for you to the end.
From day one hiring my lawyer was a great move on my part. Without him my employer would have had their way. He made sure I received all the proper care, communication and understanding. He never gave me any doubt of his representation of my case. To top it all off, to be contacted by Mr. Bill Abbott about a possible wage shortage was very impressive. With over 300 fellow co-workers, we are always passing on good information. I am recommending Joseph Bedoy and the whole Abbott, Clay & Bedoy firm. My personal experience was "outstanding". Thank you for not letting me down.
I couldn't have asked for a better lawyer. Very professional and understanding. We prayed together, fought together, and won the case. No need to find another lawyer. When the time comes Joseph is on my team now!
I worked with Mr. Abbott when I needed a workers compensation attorney a few years ago. Overall I had a good experience with the firm and the attorneys at the firm. Although I hope nobody ever has to experience what I went through with my employer, hiring Mr. Abbott is a good step in the right direction.
Fyodor Clay is a great attorney to work with. He helped me with my workers compensation case and allowed me to focus on my life while he took care of my case. Overall dealing with him was very easy and I would recommend him to anyone who needs help with a workers compensation claim.
My employer used every dirty trick in the book to avoid paying my claim. I was forced to hire Bill Abbott's firm. My attorney really showed his metal at trial against my employer and the insurance company. My employer and their insurance company were required to pay for my medical care, back pay, and income benefits.
Our Address
12600 N. Featherwood Dr, Ste 200
Houston, Texas 77034
Phone & Fax
Main Office: 713-223-1234
Fax Number: 713-910-9010
Toll Free: 888-434-2667
Toll Free 888-434-COMP
Abbott, Clay & Bedoy attorneys are licensed only in the state of Texas unless otherwise indicated in the biographical section. Past performance is no guarantee of future results. We consider employment in another State only in association with co-counsel licensed in that State. References to laws are limited to federal and State of Texas law.