Comp Rate – Weekly Benefit Amount in Texas Workers Comp Cases
Simply put, your "Comp Rate" is the amount of money that the workers' compensation insurance carrier send you each week as long as you remain eligible to receive income benefits during the life of your Texas Workers' Compensation case. The Comp Rate may vary based on what type of income benefits you are receiving and your Date of Injury. Below you will find brief explanations of how the Comp Rate is determined:
Already Have an Ombudsman?
Your Ombudsman is underpaid, overworked, and not equipped to adequately handle their high caseload. Every day, injured workers report that it's hard to get their ombudsman to return their calls. We've even heard credible reports of ombudsmen missing deadlines and (illegally) giving bad legal advice.
Learn More: An Ombudsman Is Not A Lawyer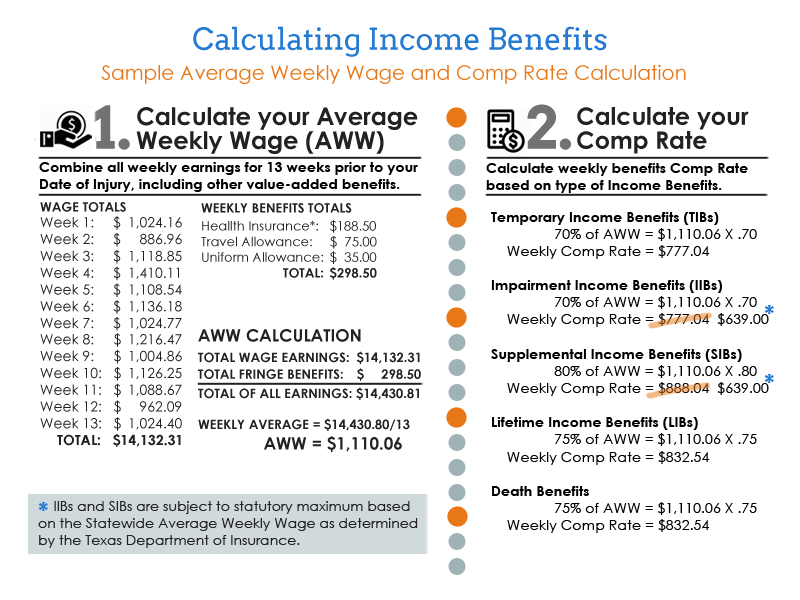 Need Help?
Texas Workers' Compensation laws are complex and impact many areas of an injured workers' life and future. The insurance carrier has one goal: to limit or dispute your medical care and your entitlement to income benefits. Call 888-434-COMP (888-434-2667) and talk to our hard-working, experienced workers' comp lawyers. You owe it to yourself to talk to an attorney who can help you understand your rights, responsibilities and options in this difficult time of your life. The call is free, there is no obligation, and all conversations are kept strictly confidential. Call today.
Our Address
12600 N. Featherwood Dr, Ste 200
Houston, Texas 77034
Phone & Fax
Main Office: 713-223-1234
Fax Number: 713-910-9010
Toll Free: 888-434-2667
Toll Free 888-434-COMP
Abbott, Clay & Bedoy attorneys are licensed only in the state of Texas unless otherwise indicated in the biographical section. Past performance is no guarantee of future results. We consider employment in another State only in association with co-counsel licensed in that State. References to laws are limited to federal and State of Texas law.