An Angry Superintendent, a Lost Leg, and an Utter Disregard for Safety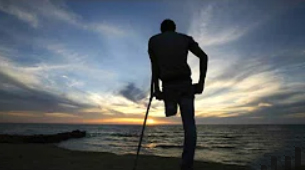 Tyler Lee was a superintendent for a major construction company, observing one of his crews trying to lift an auger that had been deeply placed into the earth but wouldn't budge. Chris Miller, another superintendent on the job, was managing the effort without success. According to the description of the facts in the appeals court ruling, Miller was enraged that the auger was stuck and knew that failure to release the deeply embedded auger would result in days of lost time, money, and trust.
Tyler Lee watched the events from far away, behind a barricade. He had seen things like this before and he knew the dangers that awaited for the workers if Miller pushed things too far. A crane had been called in to remove the auger but it still wouldn't budge. The hydraulic hoses tightened and sprayed fluid all over the windshield of the crane. The crane also began to tip forward, a sure sign that things were about to turn potentially deadly for everyone there. The crane operator stepped down from the crane several times in an effort to make Miller realize that the crane was about to tip, buckle, or break. Miller was described as furious and, according to witnesses, shouted that if they didn't remove the auger, he would find someone that would.
Finally, after Miller's shouting "Pull it out! Pull it out!", the crane operator did as instructed. As everyone watching predicted, the crane's boom bowed and bent, eventually snapping in half, crashing to the ground in a violent, grand disaster of destruction of material and machinery.
Luckily for all the operators and Miller, nobody was hurt. The same could not be said for Tyler Lee, however, who was watching from afar behind the barricade. Notwithstanding Lee's distance from the site, the crane leads plummeted to the ground in his direction and pinned him to the earth. A track hoe was needed to lift the leads off of Lee, who's leg had been crushed and severed so badly that doctors had to amputate above the knee. Lee would walk with a prosthetic for the rest of his life. (see Berkel & Company Contractors, Inc., v. Tyler Lee and Leigh Anne Lee, No. 14-15-00787-CV).
Lee filed a workers' compensation case and, as expected, was provided with coverage for medical costs and a portion of his lost wages. He also received a relatively small sum for the loss of his leg.
Intentional Injury in Workers' Compensation Cases
Texas law says that if an employer is covered by workers' compensation insurance, then an injured employee's only avenue for recovery is through an administrative workers' compensation claim. However, if an injury was intentional, then the injured worker can sue in civil court, independent of  any administrative claims that may otherwise be required.
Lee and his attorneys felt that Chris Miller's actions constituted an intent to injure, insomuch that Miller's commands were clearly seen by everyone present as being far outside the realm of established safety protocols. Additionally, Lee's attorneys argued that anyone watching the events would have determined that an injury or death was imminent in the wake of  Miller's insistence that the crane be forced beyond its physical capacity and was destined to break and injure or kill workers who were present. Considering the reasonably foreseeable set of events that surely were expected to unfold, Lee's attorney argued that Lee's injury (or anyone else's injury) rose to the level of "intentional".
A Brazoria County jury agreed, and awarded Lee a verdict of more than $35 million in actual damages, and an additional $8.5 million based on Miller's gross negligence.
Texas Appeals Court Disagrees
The Texas 14th Court of Appeals disagreed and reversed the Brazoria County jury's ruling. In their ruling, the appeals court found that "intentional injury" requires that the negligent person or company must have a specific intent to injure a specific worker or group of workers. The court stated that a defendant must be sufficiently certain that a worker would be injured in a specific way in order for the injury to be deemed "intentional".
The appeals court also found that if a supervisor simply "permits a hazardous work condition" or "orders performance of an extremely dangerous job", or "even knowingly violates a safety statute", that does not necessarily rise to the level of "specific intent to injure", and therefore made Lee's jury verdict unlawful.
In short, even if a supervisor knows that what he or she is ordering is 1) illegal, 2) unsafe, and 3) will likely lead to injury or death, then injured or killed workers and their families may have no standing in court.
What does this mean for Texas workers?
If a Texas employee has a particularly dangerous job, or finds themselves in a life-threatening situation at the command of a supervisor or manager, their only hope for compensation for injuries or death arising from the situation is a simple, traditional workers' compensation claim, even if the supervisor's commands are unlawful or if injury or death is reasonably foreseeable. They are not allowed to seek additional damages in civil court, even if a jury would otherwise find that gross negligence led to the injury or death.
This verdict is a huge win for insurance companies and another example of reduced workers' rights in Texas under the current, conservative legislature and judiciary.
Need Answers?
Check out our Frequently Asked Questions